New For 2019 – Reese's Cupfusion
Now open, become an agent, protect the factory, and ensure the world is never deprived of Reese's® peanut butter cups on an All-New Interactive Gaming Ride which features the most targets in the world and six ways to play, Reese's Cupfusion®. Are you up for the mission?
Learn More

about Reese's Cupfusion
New For 2020 – Hershey's Chocolatetown
Opening at Hersheypark summer 2020, Hershey's Chocolatetown℠ will be an all-new region where guests can play, eat, shop, and gather. Hershey's Chocolatetown will also be home to Candymonium℠, the tallest, fastest, longest, and sweetest coaster in Hersheypark.
Learn More

about Hershey's Chocolatetown
HERSHEYPARK SHUTTLE SERVICE
Transportation is available to and from Hersheypark from Hershey Lodge. Service starts one hour before Hersheypark opens and stops one hour after Hersheypark closes. The shuttle runs every 30-40 minutes, depending on area traffic.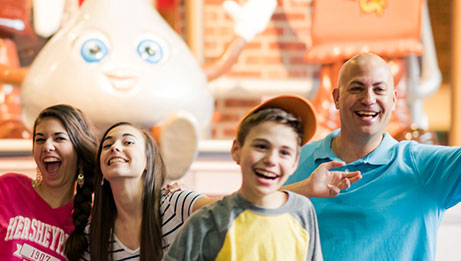 Hershey's Chocolate World